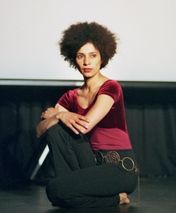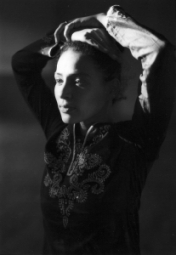 Oxana Chi Dance & Art
OXANA CHI is a multi-talented performing artist who works as a dancer, choreographer, curator, festival organizer, filmmaker and publisher. She was born in Frankfurt, Germany of Eastern Nigerian and Eastern European descent and has been choreographing and performing her own pieces since 1991.
Her repertoire is comprised of 18 productions. As a solo dancer, she usually appears on stage with live-musicians who perform outstanding transcultural compositions specifically for her pieces.
Her cutting-edge choreography has been praised in the international press for its aesthetic beauty and its ability to address the continuity between past and present sociopolitical issues.
Oxana has studied dance & movement in many parts of the world including:
Berlin, Germany (Ballet with Yvonne Wendrig from China/Holland at Marameo Studio, Egyptian dance with Turkish dancer Zadiel Sasmaz);
Solo, Indonesia (Classical Javanese Dance with special female dancer Endang Subono at Academy of the Arts STSI University and Taichi Kungfu with Abraham Soenarso);
New York, USA (Judith Malina The Living Theatre, Merce Cunningham Studio, Susan Klein Studio) Pat Hall Afro-Caribbean Dance & Movement at Mark Morris Dance Studio;
Paris, France (Ballet with Maestro Antonio from Argentina at Academie des Arts Choregraphiques, Cite Veron; and with Christine Kono from USA/Japan at Centre National de la Danse);
Sydney, Australia (Ballet with Judy Rose from USA);
Taipei, Taiwan (Martial Arts with advanced female Master Azu Wu and Workshop at U-Theatre);
Hong Kong (Qigong with Ma Wang Shang)
and in discotheques in Egypt and Nigeria.
Drawing inspiration from her travels to 30 countries in Asia, Europe, Africa, the Pacific, and America, she is also a self-taught artist who develops her own performing language transcultural fusion, which alternates between energetic sequences and soft moves in combining beautiful dance, dramatic expression, and poetic storytelling.
She is featured in several films, including the art documentary Dancing Through Gardens, depicting her work in producing "Through Gardens". The film shows her outdoor performance in Indonesia for a 5,000 persons audience, her rehearsals, her costume production, and her research into the 1920s/30s dancer Tatjana Barbakoff's biography in Berlin and Paris. The French-German film production, funded by the French governmental Award "Envie d'Agir", the Jewish Foundation "Zurückgeben", Interflugs/Berlin Arts University, and private sponsors such as Nigerian engineer Emeka Ebulue and Alex Zuckerman, Executive Director of international company Fimor, was released in 2014.
DVD release in spring 2015.
The Film wins three international awards in Indonesia and France.
Since 2008, Through Gardens, a Femmage to Tatjana Barbakoff, was shown at prestigious events including Solo (SIPA Festival in Indonesia), Paris (Le Dansoir Karine Saporta, Cite Internationale Maison Heinrich Heine, Théatre de Belleville), Berlin (Werkstatt der Kulturen), Dresden (18. Jewish Music and Theatre Weeks) and has toured with the support of public and private sponsors, including the French Foundation for the Memory of the Shoah (FMS, Paris), the European Union Programs Fonds "Soziokultur and Soziale Stadt", Fond Darstellender Künste Bonn, Senatsverwaltung Berlin (City Council for the Arts Berlin), Landeszentrale für politische Bildungsarbeit (Governmental office for political education), Förderband eV Berlin, Cultural offices of Pankow, Neukölln, Treptow, Schöneberg and the following German Foundations: Rosa Luxemburg Foundation Berlin, Amadeu Antonio Foundation Berlin, Gerda Weiler Foundation for Feminist Women's Research, Heinrich-Böll-Foundation.
Oxana's other recent works include Neferet iti which premiered at Dance(a)Summer Festival in Berlin and toured to Bielefeld (Dance Festival Biennale Passages 2014, Dansart), Martinique (Dance Conference in Maison Rouge 2014), New York (Festival Dapline! The Performance Project @ University Settlement 2015) as well to the Asian Festivals Taipei Fringe Taiwan and SIPA Solo International Performance Arts Indonesia.
I Step on Air was originally commissioned by Natasha Kelly, Associate Professor for Postcolonial & Gender Studies at the Humboldt-University in Berlin for the wandering exhibition EDEWA in November 2012, sponsored by Mekonnen Meshgena (Heinrich-Böll-Foundation). It was first performed at Casa de las Culturas Latinoamericana, Rroma Aether Klub Theater, Pangea Haus Anti-discrimination Association.
The piece has toured 2013 at Black History Month Berlin, Black Basar Art Festival Joliba, at the opening of the international festival Homestory Deutschland about the history and current lives of Black Germans in Hamburg, at the trans_x_ing feminist art salon (Prof. Dr. Lann Hornscheidt, Humboldt University Berlin), at the Bielefeld University Gesellschaft macht Geschlecht Festival.
"I Step on Air" was also invited to the Istanbul University Yeditepe (International Symposium Writing Womens Life) 2014, to University Mainz (All women department) and NYC Laboratory for Performance Dixon Place NY 2015 amongst others and upon invitation by MBdance at the Jack Crystal Theater, NYU Tisch School, New York and the International Queer Film & Theater Festival Delhi 2016.
Oxana premiered in New York an excerpt of her new dance choreography Psyche at Lava Dance Studio, LaMama Studio FAB Winter Dance Block and at the BlakTinx Performance Series, Bronx Academy of Arts & Dance in 2015.
Since then, she kept developing the piece and performed it at Auditorium Grimmzentrum, Humboldt University, POETRY MEETS HIP HOP Ballhaus Naunynstrasse Theatre Berlin, International Symposium Moving Memory @ Technical University Berlin as well as at the Archives Matter Conference at Goldsmiths University of London and the NYU Tisch School of the Arts 2016. Recently Oxana performed Psyche on Dixon Place (February 2017).
Founder, Artistic Director & Choreographer of Oxana Chi & Ensemble Xinren, Board Member of Hof Theater in Berlin Kreuzberg, Member of the Dance Caribbean Collective NYC, Co-Founder of li:chi e.V. – transcultural network for art & political education, Oxana has received various awards and grants including the Cite des Arts Residency (Paris), Berlin City Council for the Arts, Gerda Weiler Feminist Foundation and European Union programmes "Fonds Soziokultur".
She is known in Europe for initiating and curating multidisciplinary festivals such as Dance(a)Summer Festival, the 10-month Dance Performance Series TANZnews (2009/2010) in cooperation with Werkstatt der Kulturen and the Berlin Senat City Council for the Arts and the Salon Qi Art Salon in Berlin and Paris from 2009 to 2014.
For more information about writings, films, dance and arts, take your time to surf on this website. Enjoy!
Film, Installation
13 Art Films Super 8 format
31 Dance - Installation DV format DVD movies
5 Documentary DV Format DVD
1 Dance Film SVHS Format
The movies are between 6 minutes and 140 minutes long.
Involvement in art films of other artists.
Several Cinema Film Series in Berlin, supported by the Cultural Affairs in Berlin