Living Mosaic

Installation - Improvisation - Video - Dance (Working Title)
A dance-camera partnership, a Pas de deux between dance and video, between movement and movies.
In this concept, dancers are encouraged to improvise in front of the camera and to perform their own selves, while Oxana re-interpretes them live with a very dynamic, dance-spirited, handheld camera. A pas-de-deux between dance and camera, which appears like a conversation between two humans.
In a second version, the performers could film themselves together with Oxana Chi, using the camera in self-timer mode. By choosing the sequence lengths and the position of the camera, they could express own wishes and ideas.
All these portraits come together in an installation consisting of those short movement movies, which are displayed simultaneously on TV screens. Oxana has already realized 36 videos with international artists from England, France, Germany, Nigeria, Australia, India, Japan and the USA.
The installation maps character sketches in an urban dancescape!
Tour History includes:
Cinema Z-inema Film Series Tanzfilmreihe – Berlin 2003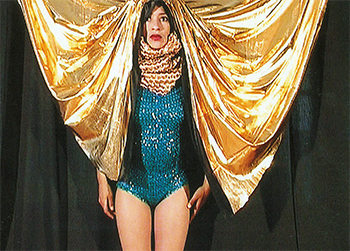 TV Srceennig in Offener Kanal – Berlin 2002