Dancing Through Gardens (Durch Gärten Tanzen)
Germany / Indonesia / France 2014
(DVD Release – Berlin 2015)

Duration: 140 min
A poetic and insightful artistic documentary about dance and memory involving 3 generations of women and 3 countries. Filmmaker Layla Zami accompanies seasoned artist Oxana Chi who is performing her unique dance solo Through Gardens with live-music in Berlin, Paris and Solo (Indonesia). The movie takes the audience on a trip, following Oxana's artistic research and biography mapping about Tatjana Barbakoff, a Chinese-Jewish-Latvian dancer who inspired many painters, photographers and sculptors of the 20th century.
»An innovative dance_ documentary_ fiction_ film presenting the biography of Tatjana Barbakoff, great Chinese-Jewish-Latvian artist of the 1920s, through the graceful artistic eye and body of Oxana. Watching and sensing this powerful movie, the audience is invited to travel alongside two dancers between past, present and future merging in the timeless feeling of now.«
Book Writing Women's Lives, Yeditepe University, Istanbul 2014
Produced by lichiverein, made possible in part with the support of the French Ministery Program "Envie d'Agir" FMS Paris (Foundation for the Memory of the Shoah), Interflugs UdK Berlin Arts University and private sponsors.
Gold Awards for Dancing through Gardens
Oxana Chi is honored to receive the International Gold Award as a Filmmaker of Inspiration and the title of Ambassador of Peace for her outstanding dance_film_opus Dancing Through Gardens dedicated to the memory of the dancer Tatjana Barbakoff.
Layla Zami & Oxana Chi receive the International Award of Recognition Winners for European Documentary
Filmfestival Documentery & Shorts International
Jakarta 2016
»Your dance, your words and your film reached the depths of my soul. Words are not enough to express how intensely I identify with your images and perspectives.«
Celine Madé, Berlin 2015
Tour History includes:
Festival Salon Qi @ Cinema & Multi purpose Hall Filmbühne am Steinplatz – Berlin 2014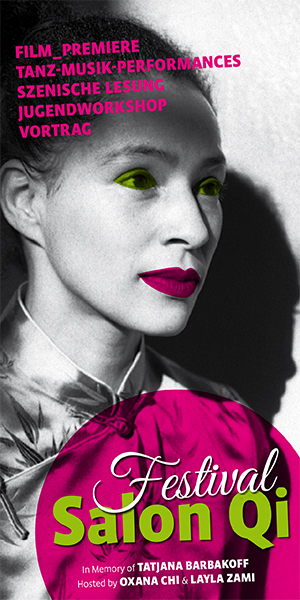 DVD Release – Berlin 2015
Salon Qi Festival @ Cinema Bundesplatz Kino – Berlin December 03, 2017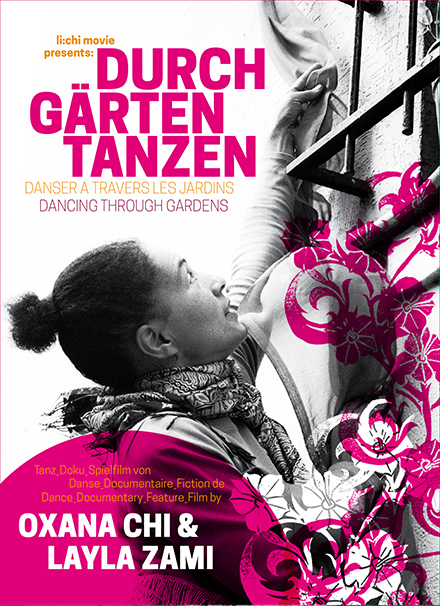 DVD at the Exhibition Themenraum Tanz
in Cooperation with Tanz im August @ American Memorial Library – Berlin July 25, - August 31, 2017
Event series In Memory of May 8, 1945 @ EW Building – University Osnabrück June 01, 2017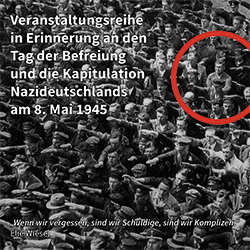 Program brochure (page 24)
MLT International Symposium, Heinrich Heine University – Düsseldorf 2016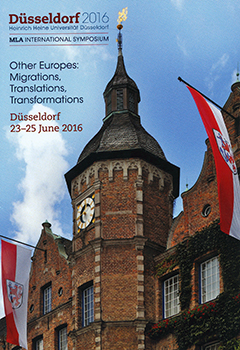 Europa-University Viadrina Center for German-Jewish Literature and Cultural History, Exile and Migration – Frankfurt Oder 2016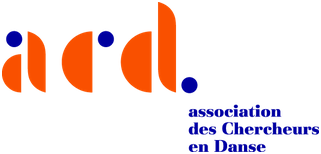 In*Vision Festival – Brandenburg 2016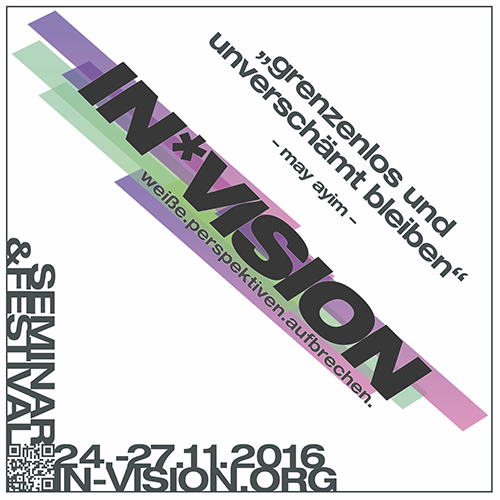 Woman culture center Frauenkreise – Berlin 2016
Woman culture center Begine – Berlin 2016
Woman culture center SUSI – Berlin 2016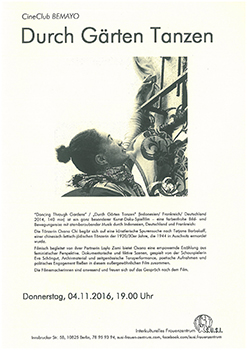 Gesellschaft Macht Geschlecht Feminist University Festival Program – Bielefeld 2014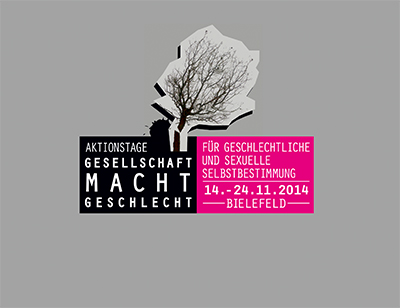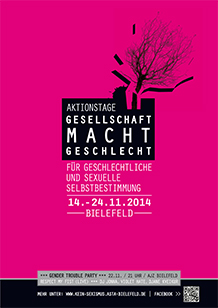 Aktionstage Gesellschaft Macht Geschlecht – Program 2014 (on page 5)
Culture Center AJZ – Bielefeld 2014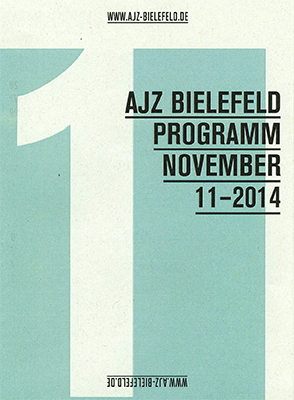 Film series at xart splitta art space & publishing house – Berlin 2015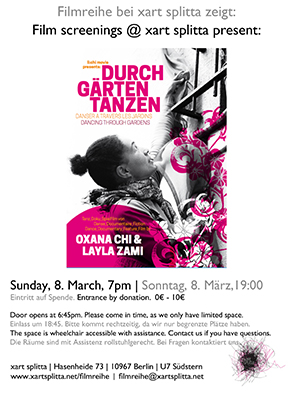 Women Culture Center Schokoladenfabrik – Berlin 2015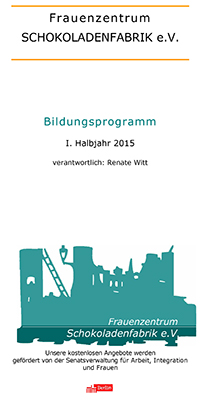 DVD order by Fembooks Berlin